This page is dedicated to the memory of Bob, more affectionately referred to by his many close friends, as "Mr. Downtown". Bob was my older Brother, who passed away in 2000, and who up until that time, had been a major part of my everyday life, for as many years as I can remember. Through good times and bad, we'd always been there for each other, to gloat over our triumphs, and with a shoulder to cry on when things went wrong. Although I still have a very close, and loving family around me, nothing can replace the loss of my "Big Brother". I miss him terribly. Bob was a photographer and darkroom technician by trade, originally with his own studio, and later as a ships photographer on the P & O passenger liner IBERIA, seen above, during it's summer cruises in the late 60's. He came to Canada the same time we did, and operated his own, very successful apartment painting business in Vancouver.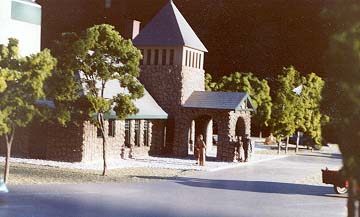 He also established himself as a custom model tree maker, "Evergreen Ventures" for Architectural Model Builders like ourselves, in both the U.S. and Canada. In the earlier years, it was only a part time venture, but it soon became necessary to devote all of his time to producing these miniature masterpieces. If you see one of our models with trees on, they were Bob's, and although there was lots of heavy competition in the model tree making business, I never found anybody who could build them quite like Bob did.
One of our architectural models, dressed with Bob's trees.